Best Blogging eBooks Store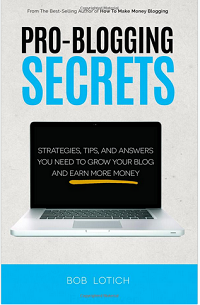 Blogging is one of the best way to make money online today. However, not everyone become a successful blogger and most people end up giving up or lacking motivation to move on.
It is important to start your blogging career on a good foundation. Adequate knowledge on what is expected from you as blogger will help you to move on even when little or nothing is coming from your blog.
One way to do this is by equipping yourself with the proper knowledge. You need to understand challenges that comes with blogging and how to handle them.
This can only be achieved by reading through the experience of others bloggers and this is exactly what we are bringing to you by selecting some of the best eBooks and displaying them on our blogging store to make it even more convenient for you.
We have selected the best top selling books from well known authors and successful bloggers. If you want to become successful in blogging, I would recommend you to read atleast one or two. I know after you read some of these e-Books, your blogging will never be the same again.
Learn how to get started, how to set your blogging goals, tackling challenges and how to monetize your blogs and start earning a good income online.
Achieve your long time goal of becoming a blogger that you have always wanted. You can achieve all this by reading any of the books listed on this page right now.