Can You Make Money With 5 Dollar Wonder?
The answer to this question is definitely yes. I have been subscribing to 5 dollar wonder system for almost two years now and every other year, I continue earning a passive income directly to my Paypal account.
What is 5 Dollar Wonder?
5 Dollar Wonder is a digital automatic website/system that comes with digital products as part of the package. Once you become a member of 5 Dollar Wonder, you get your own digital products that you can sell to make money online.
Basically, this is how 5 Dollar Wonder works. You sign up and subscribe to 5 Dollar Wonder by either paying a monthly subscription fee of $4.99 or a one time membership fee of $50. The $4.99 monthly charge is used to pay for your web hosting as well as a part of the products found on your website.
How to Sign Up with 5 Dollars Wonders
Signing up with 5 Dollar Wonder is very easy since they accept members from all over the world, provided you  can be to accept payment either through Paypal, Payza or Money Bookers.
Once you become a member of 5 Dollar Wonder, you get your own replica of 5 Dollar Website, which is made of digital products with reseller rights. This website also comes with a 125×125 banner slot to rent out to an advertiser and earn money.
How to Earn Money with 5 Dollar Wonder
You earn money every time someone subscribes to 5 Dollar Wonder through your website. One good thing, even though you are only subscribed to $4.99 membership, you still get the money if someone subscribes to the life time membership by paying a one time fee of $50.
5 Dollar Wonder users Payspree as their payment gateway to avoid getting members' accounts restricted by payment processors like Paypal.
So, you are required to sign up with Payspree. You can find the information about signing up on the follow up emails. Once you have your Payspree account, you can now start receiving payments without having to worry about restrictions.
You do not have to wait for the payments to be approved or to be sent. Your money become instantly available to your payment processor when someone subscribes to your 5 Dollar Wonder through your website.
5 Dollar Wonder uses Paypal, Payza and Money Bookers as their payment processor. You are supposed to file in the email address of the payment processor of your choice during sign up.
Does 5 Dollar Wonder Really Works?
The answer to this questions is definitely YES. I have been using 5 Dollar Wonder for almost 2 years and I can confirm to you this program works and it continues working even now. Infact, my latest sale was just the other day in 2015. Here is a screen shot from the Payspree;
I also did make some passive income in 2014, mostly from the $4.99 membership. In addition, I did manage to sell atleast 4 life membership and two banner slots. Here is a screen shot of some of the Payspree transactions in 2014.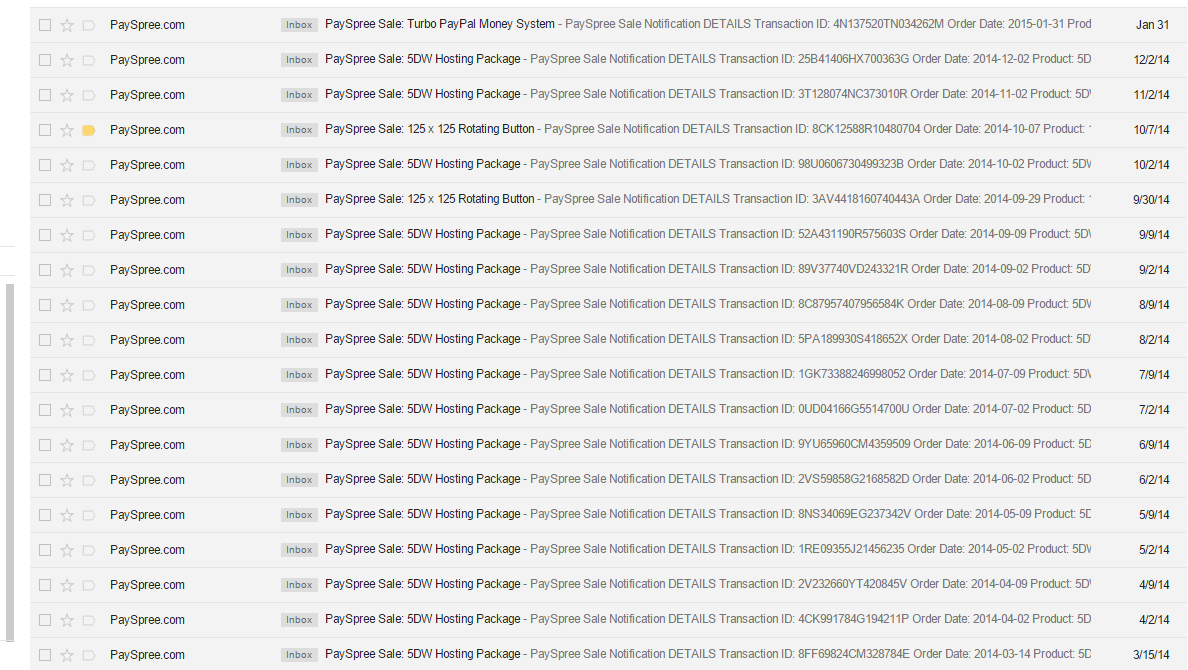 As you can see, 5 Dollar Wonder works and it has worked for me. You just have to make sure you are marketing your website to the right people. Once you have done that, you can now relax and watch your Paypal account grows.
Conclusion
5 Dollar Wonder is a great system to use to make money online. However, the system works in a similar way just like any other pay per sale program whereby, you cannot earn anything unless someone subscribes through your website.
However, since it only costs $4.99 to get started, finding people to join this kind of program is usually not so hard and it is most likely after two months or so, you will already be in profit. You can visit 5 Dollar Wonder to learn more on how to get started.