Looking for a Way to Make Money Online in 2015?
If you are, then you have come to the right place. Today, I am going to review My Cash Freebies, a CPA program that seems to be getting stronger every other year.
What is My Cash Freebies?
My Cash Freebies is a Cost Per Action program (CPA) where you get paid for completing a certain action by the advertisers. Basically, My Cash Freebies connect their members with advertisers/companies looking for people to test their products.
Companies and other online businesses do give out their products or services to people for free or on trial basis at a very low discounted prices in hope they will gain new customers so they can continue growing their business. This is where programs like My Cash Freebies comes in.
My Cash Freebies has partnered with companies such as Walmart, Amazon, Netflix, Equifax, Go Daddy, Gamefly, McDonald, among others to offer free and trial offers to their members. In return, members get paid as agreed on each offer they complete.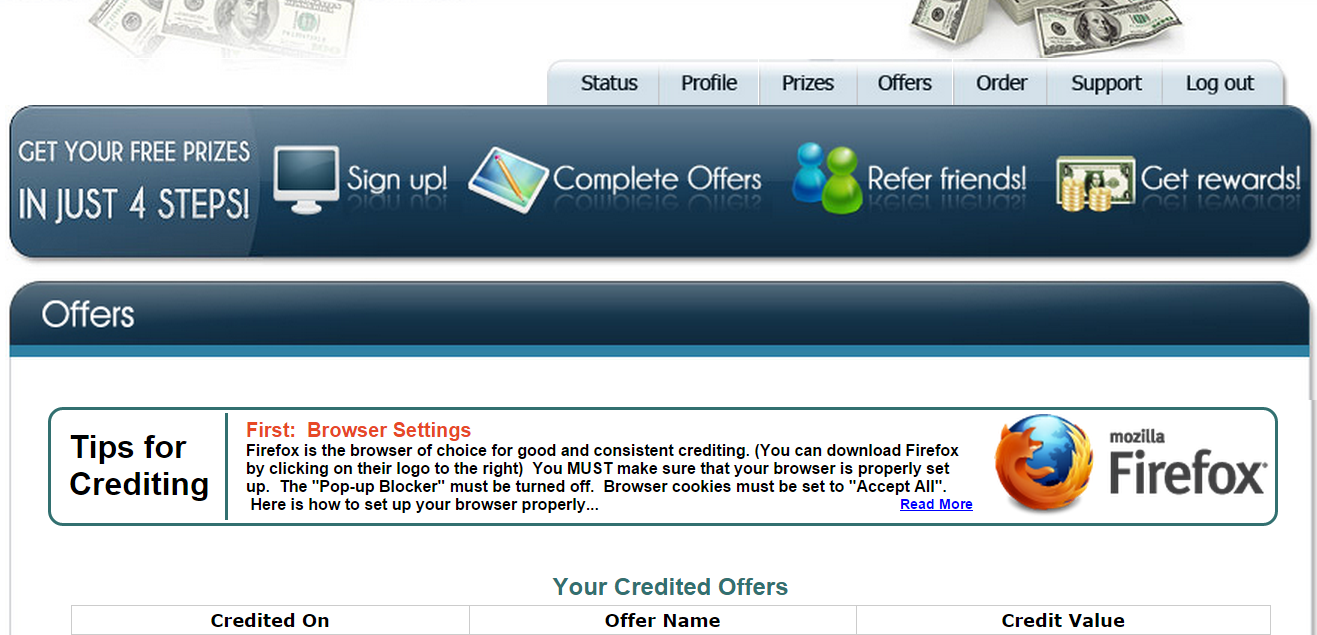 So, all you have to do is to try an offer for a certain period of time and if you like it, you can continue doing business with them. If not, you can just cancel once the trial period is over.
To qualify to start earning cash from My Cash Freebies, here are a few requirements needed;
You must be 18 years and above.
You must have a stable internet connection. NOT public WIFI or Public internet cafe.
You must have a single account per person. They have a very strict policy on accounts.
You need to be a resident of any of the following countries – United States, Canada, United Kingdom, Australia, Denmark, France, Germany, New Zealand, Norway, Spain and Sweden. However even people from other countries can sign up but they can only earn through their referrals not by completing offers.
You need to have a credit card to use to complete paid trial offers. Trial offers charges range in between $0 to $10. There are also plenty of free offers that you can try but you will need a credit card to take them.
The credit card requirement is needed to make sure you are real. Nothing will be charged unless you have agreed to try an offer. They also want to make sure they do not get scammed and surely, neither do they want to scam you.
If you have the needed requirements,  why don't you head over to My Cash Freebies and sign up. This is your chance to try something new thing this year and start making money online. I am sure you will love it.
How to Make Money with My Cash Freebies
All you have to do is sign up and simply fill up your personal profile. To qualify to start making money with My Cash Freebies, you will need to complete offers worth 1.00 credit
Click on the offers tab to check the offers available or specific to your country and complete them. Once you have your 1.00 credit, you are now free to start earning money from your referrals.
For other international members, you just have to refer someone from accepted countries to do the same.
Once your have a qualified referral who has managed to earn 1 credit, you are required to send in a support ticket on that site saying that you have and the following two things will happen at that time:
Your account will be credited in full, which activates your account and qualifies you to start earning money.
Your sponsor (the person that referred you) will get paid for your first referred completion.
In this way, the person who referred you is compensated for their efforts, and you then become "cleared" on the site to start earning money for all qualified referrals you get from that point on.
REMEMBER: You MUST submit a support ticket as soon as you have a completed referral in order to have this taken care of for you.
Does My Cash Freebies Works?
Oh Yes. You get paid in between $20-60, depending on the offer you have completed. Once you have qualified, you become unlocked for life.
This means you will never have to invest anything more and you will continue earning for life or as long as you remain a member of My Cash Freebies.
Personally, I think is one of the highest paying and a very good opportunity to make money online today. Once you are done with unlocking the opportunity, you are done and you don't have to keep putting more money in it. The less money you have to pay out, the more profit you will make.
Ready to make money in 2015? The best thing you can do right now is head over to My Cash Freebies and sign up for a free account. Once you have an user account, complete a few offers and refer other people to do the same.
Set a goal of how much money you would like to earn and do not stop until you reach your goal. It may be rocky at first but once you have mastered how to go about doing it correctly, you will start enjoying, especially the cash that comes with hard work.
With My Cash Freebies, you do not need to be an experienced internet user or marketer, you just need to have the basics and you will learn as you continue using the program.